Amygdala Ikebana
Gabriele Senn Galerie, Vienna
Jan 2019
The more I am with you,
the clearer I see:
you touch your phone
more than you touch me.
Klara Kayser, Protein (2017)
The amygdala (ancient Greek ἀμυγδάλη, German, "almond kernel") lies at the center of the brain and is instrumental in the conditioning of fear and anxiety. It connects events with emotions, which makes it essential in the accurate and often vitally important assessment of everyday situations. As well as processing external impulses, the amygdala also remembers dangerous situations and re-activates previously experienced somatic reactions such as panic, apathy and powerlessness when faced with similar conditions - these situations are known as triggers.
Alexander Ruthner's pieces can be understood as triggers of sorts. They are fragments from a lexicon of pictures collected by the artist that supposedly reminds the viewer of that which has "already been experienced" in digital media such as film, computer gaming and social media. The pieces though, don't reproduce clear symbols from collective memory that could be recognized just by identifying them. In Amygdala Ikebana, natural landscapes and figurative, realistic-looking pieces are juxtaposed as two separate groups of work. Wild grasses come together reflexively to form a poetic conceptualization. Meadow tableaus are a constant in Ruthner's work. These are recycled and expanded upon as a subject again and again. They could be based in a paranoid, primitive state of man, similar to the phase that lies between sleep and wakefulness from which one must resurface anew again and again. A proposal, carelessly offered up to the viewer: laugh, cry, be irritated, be afraid.
The decorative scenic atmosphere masks the psychological complexity that underlies Ruthner's figures and abstractions. In Before Brunch, the figures, affective in their mannerisms, play with behavioral patterns. Gender attributes and authority are negotiated via a rigid meeting, whereby the choice of psychedelic colours and mask-like facial features let one dissociate the familiar and transport it into the world of the unconscious. The seemingly realistic situation calls into question our ability to 'faithfully' reproduce images.
The exhibition completes the "Meadow Tableaus" series with "screens", which have their origins in Asia. The natural environment of the "screen" is made up of myths and secrecy. For this reason, Byobu 1/ Flex affords visitors the opportunity to escape unwanted glances and marks out a (shame-) border with the help of a screened-off, private area. In Western history, this has traditionally been associated with the female.
Landscapes that provide an escape from urbanized spaces into complete desolation form a bridge to digital reality in which a large part of our lives take place. The exhibition raises the question of where spaces for self-determination are moving to: from nature to the indoors, from the community to the individual, from the body to the display?
(Nicole Damblon)
+SODA
Philipp Haverkampf Galerie, Berlin
May 2018
Tell me what you eat, and I tell what you are.
Jean Anthelme Brillat-Savarin
I wake up in my dream. I change my appearance. I try my best.
I make mistakes. I recognize outlines. I use the tools. I make something new. I am turning in circles.
I want to buy stuff. I look into the mirror.
I change my look. I know everything of you. I look into the mirror. I will return.
Similar to a stroller, who now and then pauses in wonder, I find similiarites in the real and the world of illusions.
The various levels of consciousness and their structures are interconnected and are sharing spaces.
The vegetative nature encounters the digital game of sheer speculation. The paintings are a fixation of time and space, a paraplegic cosmos.
Games like Bloodborne, Watch Dogs or Unit, satisfy, for a short moment of time, with the illusion of expanded space and enlarged capabilities.
I generated paintings from different levels of the game, which merge into the paintings of meadows and fields.
This process of symbols and images serves the reconciliation of various states of consciousness.
The landscape and its nature do not stand for the superficial, they express depth and profoundness.
Nature is the apparent/visible product of deeper roots. The soul, the energetics, the subject and matter become aware. The utopian comments are suggesting structure.
The description of a mental structure and its pointed out space emphasize world emotion.
Strolling through the garden and dreaming of reality, the bondsmen meeting each other in a nightly-cavelike labyrinth. Knowledge is power.
The ear is a magic organ. Sensitive, but blind and destructive, figures acting. They are performing miracles in the universe. Materialism is the pursuit to master (the) materia. The eye is the sun. Man is the sum of its mutations.
The Open World is the principal which applies in the digital space, as well as in the painters real space.
The painting's movement and rhythm and the actual depicted elements are intended, and desire to be observed.
It is important to me, to create an impression of magnificence and beauty, to be part of the paintings. The dualism of tradition and evolution, is the recurring theme in the new exhibition at Philipp Haverkampf.
Philipp Haverkampf is pleased to announce the first exhibition with Alex Ruthner, born 1982 in Vienna, where he lives and works with the gallery.
Philipp Haverkampf Galerie
Mommsenstraße 67
10629 Berlin
mail@haverkampf.gallery
Playing the piano to a glass of water
Ibid Gallery, Los Angeles
15 July - 26 August 2017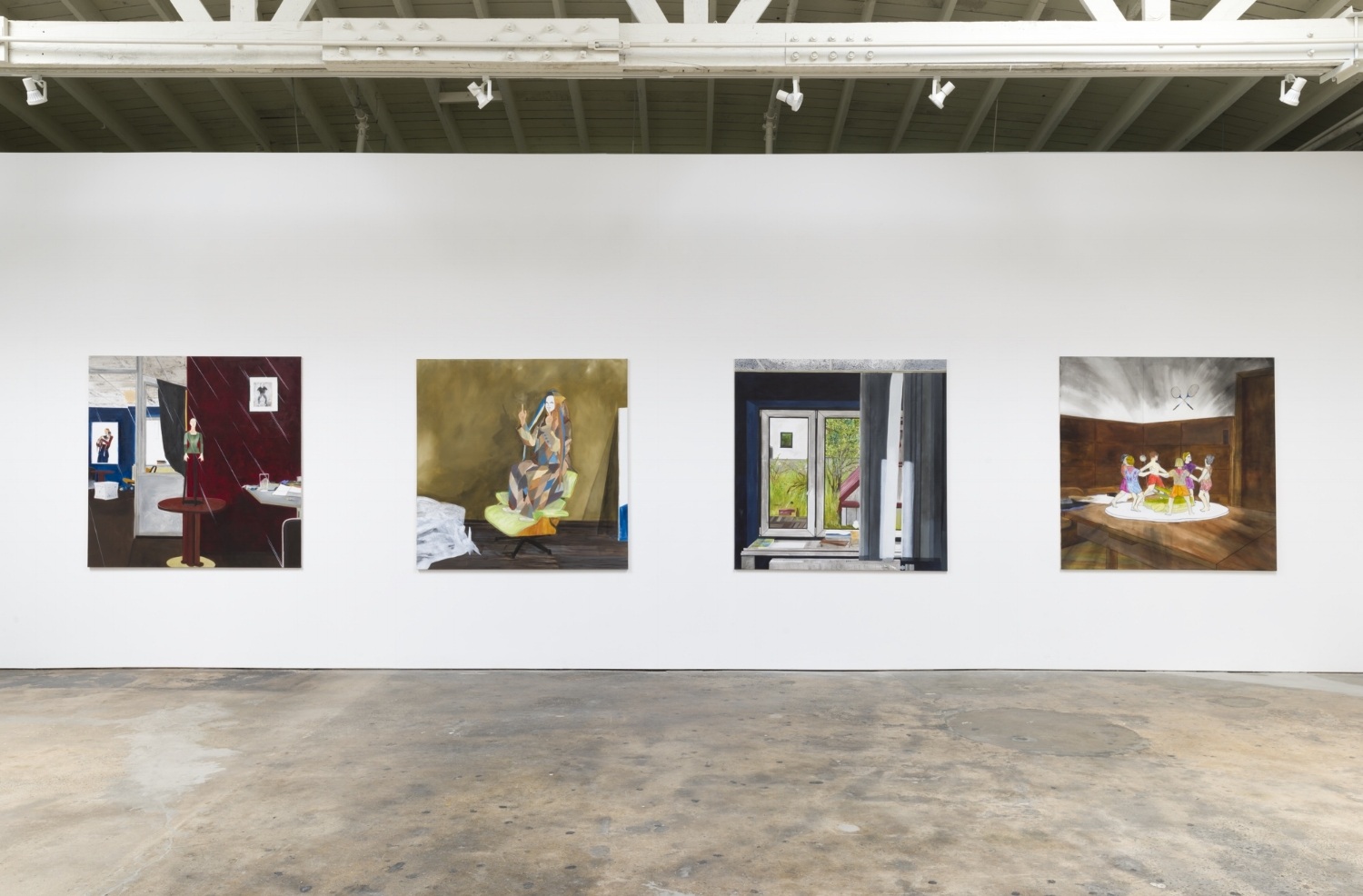 In 1994 Dr. Masaru Emoto observed various changes in the appearance of water crystals by freezing water after exposing it to music and spoken word. Even showing images or letters to a small glass of water and freezing it made changes within the crystallization visible. Negative words, or heavy metal music, gave rise to edgy, darker shapes, whilst harmonic music and 'good' words like 'thank you' let the crystals appear in softer, brighter forms. Dr. Masaru Emoto describes it as:
This world is filled with wonders and mysteries that get more incomprehensible if we try to think of a reason. In a familiar situation, for example, why do dogs exist and why do cats exist? Why do mice exist and why do snakes exist? Why are there cherry blossom trees and why are there willow trees? What is a human being in the first place? As such, there are so many incomprehensible things that we cannot understand at all.
This rather fantastic view of interconnected elements and physical phenomenon could easily be mistaken for an esoteric, spaced-out perception on the cosmos of things. Could an element like water "feel"? Similar to Japanese culture's 'realm of living things', objects like furniture or stones are inhabited by a soul and treated with care and love. The paintings in Playing the piano to a glass of water are likewise not subject to a hierarchy – they underline the equal importance of each look taken. Completing his works with direct visual quotes from his own life and intuitive painting, Ruthner emphasizes the subject of existence and it's own ridiculousness.
Standing at the barrier between the real and the unreal, Alex Ruthner's new works follow traditional painting in that they raise the ultimate claim to 'made reality'. This made reality seems to be part of every day life in a very 'me' –centered society in which 'you and me' over examine every detail of life, as if it were something precious and special, worth questioning and marking every move of a daily routine. This crystalline clarity found in each of these moments marks the line upon which Ruthner's new paintings are tripping and to which the viewers gaze should be led.
The interpretative management of Alex Ruthner's work allows another perspective: an aspiration, after Immanuel Kant, to explicitly overcome the impossibility of reaching aesthetic elevation. The infinite number of human attempts to reach this elevated aesthetic (as opposed to evident beauty and decoration) equals an astral projection through the Marden's of stars in the universe – in a glass of water!
This metaphysic approach is not new in Ruthner's practice, but its dimension is hitting new highs in this group of paintings. The demand to visualize this void is revealed to the viewer upon taking a long close look at the paintings. By following the painting's architecture you will recognize the repeated appearance of figures, patterns, letters and ornamental tattoo. These elements "hug" the painting and fix the process of designing the painting as a living thing.
Alex Ruthner was born in Vienna in 1982, where he currently lives and works. He studied fine at the Academy of Fine Arts in Dusseldorf under Albert Oehlen and at the Academy of Fine Arts,Vienna under Daniel Richter. Recent shows include Ferien, Grieder Contemporary, Zurich; Electronic Superhighway, Whitechapel Gallery, London; Temptation, Ibid Gallery, Los Angeles; Fix, Millbank Building, presented by Ibid Gallery, London; Unreliable Imitation of Life, Ibid, London, Kunstbureau, Vienna; Nature of Speed, Gallery Exit, Hong Kong; Parallel, Vienna and Brucennial, New York.
For press inquiries please contact John Emison at john@ibidgallery.com or +1 (323) 395 8914.
Ibid Gallery
670 S Anderson Street
Los Angeles, CA 90023 USA
+1 (323) 395 8914
la@ibidgallery.com
Temptation
Ibid, Los Angeles, USA
2015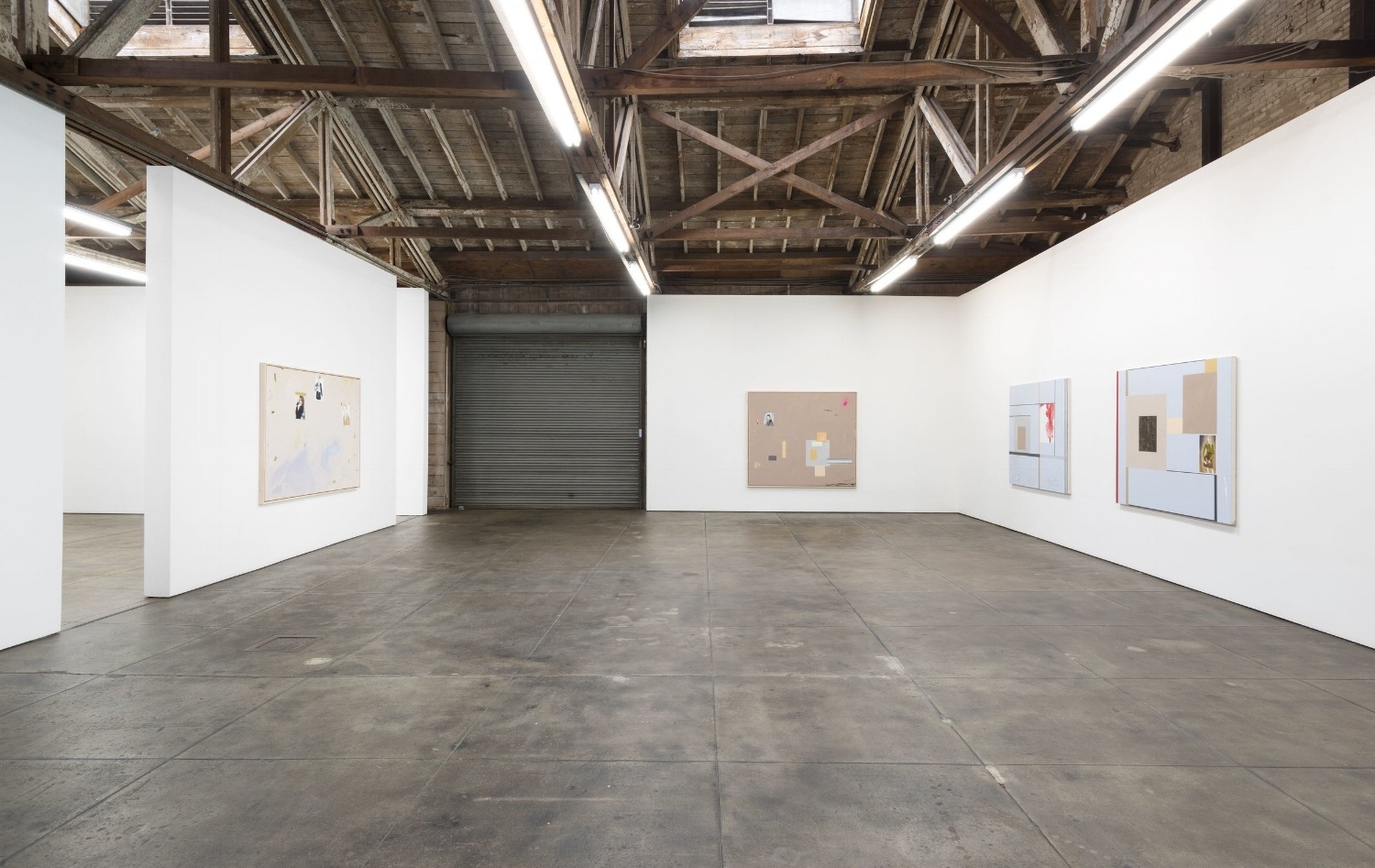 Alex Ruthner makes paintings that demonstrate an interest in composition and form, and dexterity with classic materials. Style and genre overlap while the representational and the abstract converge, as seen in the two bodies of work the artist has created. While both relate to the title of the exhibition, Temptation, which is borrowed from the name of a New Order song, two of the paintings in the first gallery reflect the muted hues and architectural elements which were inspired by the Manchester club, Hacienda, founded by the band. Although many components of the paintings in this gallery are at first glance abstract, they are in fact laden with representational symbols that often connect one canvas to the next. Ruthner draws from elements from interior design and lifestyle magazines, moments from films such as Nicolas Roeg's "Don't Look Now," art historical painting, religious relics, cosmetics, nature, tattoo culture, book binding, Venetian blinds, the rapper Falco, storytelling traditions, Netflix, Peter Doig's Studio Film Club, a sculpture by Albert Oehlen, color theory, action painting and youthful angst, hope and disappointment. For Ruthner, these paintings work like a screen where one has a certain background on which he can arrange apps, moving them around to prioritize the more important ones.
In Ruthner's series of grass paintings, he extends this theme, noting the scenes in the movie Trainspotting where the urban misfits go to the countryside to escape, only to find themselves bored and their dreams shattered. Ruthner idealizes the non-existent counterworld of nature by depicting an often muddy and foggy meadow, completely saturated in plant life and reminiscent of landscape or dark impressionistic painting. The starting points for these large-scale canvases are Pre-Raphaelite paintings as well as Austrian ornamental and decorative paintings such as those of Gustav Klimt and Friedensreich Hundertwasser. Their playfulness and comic quality are influenced by the work of Danish artist Per Kirkeby. Moreover, this series depicts what for Ruthner is an obvious subject in painting; ubiquitous, nature becomes a worthy subject of painting. However, since they lack a horizon or perspective, Ruthner would not call them landscapes but rather they are more thought of as moments, such as that in The Lord of the Rings when one puts the ring on he's in the shadow world or when one is walking in the woods, see leaves on the ground and allows his field of vision to be saturated by that instance.
Alex Ruthner was born in Vienna in 1982. He studied fine at the Academy of Fine Arts in Düsseldorf under Albert Oehlen and at the Academy of Fine Arts, Vienna under Peter Kogler and Daniel Richter. Recent shows include Fix, Millbank, London, Unreliable imitation of life, Ibid, London, Kunstbureau, Vienna; Nature of Speed, Gallery Exit, Hong Kong; Parallel, Vienna and Brucennial, New York.
Courtesy of the artist and Ibid.
FIX
Millbank Tower, London, UK
2014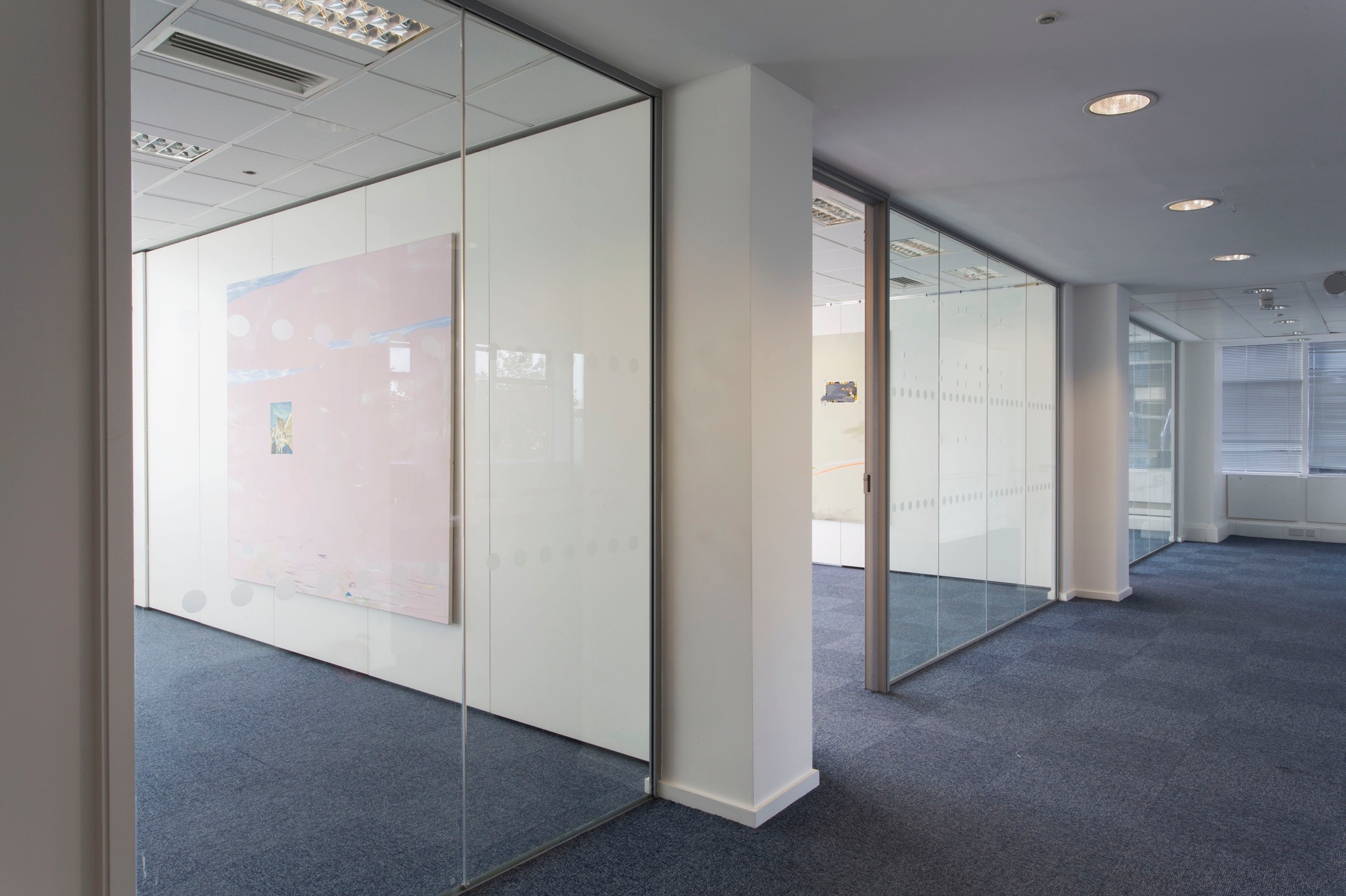 Like Dickens' descriptions of London fog in Bleak House, Alex Ruthner spins a fragmented narrative that plays out on a polluted field: paint becomes yellow, brown, grey, and fleshy toned muck. His paintings are not unrelievedly bleak, however; in amongst the grime are winks of paradise: fields of poppies, stands of trees. The paint in these works is splattered, stained and slathered with pictorial fragments from rural and urban landscapes along with shards of historical references from Picasso to Alex Katz.
Ruthner studied under Albert Oehlen at the Dusseldorf Academy and Daniel Richter at the Academy of Fine Arts in Vienna, and in some ways his work evinces a merging of these two teachers: Oehlen the post-mod, cut-and-paste poster boy, equal parts painter and digital collagist and Richter, the painterly fantasist spinning idiosyncratic, convoluted tales. Ruthner has twisted their lessons into something distinctly his own.
Just six months ago, Ruthner had his first solo exhibition in the UK, at London's Ibid gallery. Since then, his restless talent has led him in different directions. A Ruthner canvas is a poetic wreck, an explosion of abstraction, figuration and the barest, reductive making of marks. These are risky works that revel in process and material: he courts failure, and achieves success.
These paintings are not definitive statements. They are open-ended questionings and provocations initiating conversations about a fragmented world that mirrors our media-saturated short-attention-spanned lifestyles. Ruthner serves up his aesthetics with a thick helping of politics, taking the temperature of society, often handing us an unpleasant report.
There is much subtraction as addition, as much synthesis as analysis. Each work is like an environmentally destructive act – fracking and strip mining come to mind – gnawing into the surface, only to build it back up. The mix of materials lends these paintings an olfactory dimension: you can smell Ruthner's devotion to the act of painting, and sometimes that odor is putrid.
In all this dejected mayhem, there is a generosity in Ruthner's work. He demystifies the act of painting by using the canvas as itself as a palette, creating pictures within pictures. Pigment residues, stains, smudges and traces become integral to his compositions while lending insight into their very making. In front of this new body of work, we are all voyeurs, peeping at a methodology that brings to mind the Bruce Nauman's early videos about the act of drawing, the heavy metal splatters of early Richard Serra works and post-industrial (and, in Ruthner's hands, post-internet) entropy of Robert Smithson.
Occasionally, horizontal slats appear in the works that reference fashion as well as Venetian blinds – the most economical way to let light (and life) in and keep it out by the mere yank of a cord. Ruthner has said that he imitates haute-couture fabrics, but favors the soiled-looking variety. If his paintings recall any number of glamorous runways, they are also the pictorial equivalent of the squalor of a dirty dorm room. Per Wilde, we are all in the gutter, but some of us are looking at the stars.
Sometimes Ruthner incorporates bits and pieces of distorted cartoon imagery, like a drugged-looking Mickey Mouse, cute but sinister references that draw the viewer in even as they universe him. Anxiety lurks just beneath the surface of these paintings. Like certain ill-advised affairs, they are sweet in the moment, but leave an aftertaste of frustration that makes them difficult to shake.
When the new works arrived for installation, I noticed lipstick kisses strewn across the surface of a painting. Marks too strong not to register on the PDF file I'd been sent, they had clearly been administered after the works had been photographed. These ex post facto smooches – made, one assumes, by lips not belonging to Alex – are indicative of an artist in a state of constant flux and progress where even completed works (documented and sent on) are fluid up until the moment the transport van arrives to whisk them away.
His practice marks a convergence of painterly conceptualism with that bogeyman of today's instant gratification, turbo-charged buying and selling: traditional skill. Ruthner himself has said he is not a "supermarket artist" making product for a greedy market in search of the next thing, but his work also does the talking for him: with some of these paintings bordering on the downright tough, he should hardly be concerned about being confused with the commercially-minded.
Ruthner's is a tightly wound world characterized by dejection and outright despondency – but it is shot through with glimpses of hope and happiness. His paintings are not transcendent; they don't transport you anywhere, but instead anchor you to material reality, and this they do with grit, finesse and great beauty. Ruthner is at once a storyteller and a portraitist. His portrait is an abstract, collective one, of youth culture seen both in the present and through the lens of history. The story he tells is both classical and contemporary; it looks both forward and back.
Kenny Schachter, London, 2014
Unreliable Imitation of Life
Ibid Projects, London, UK and Kunstbuero, Vienna, Austria
2014